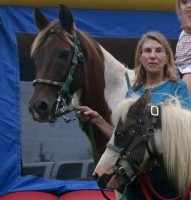 CALL: 608-293-1629
Dr. Mareth Ellsworth began her equestrian career as a child rider in Dubuque, Iowa. Her expertise expanded over most of U.S.A.
Training show horses and riders. She has had an extensive successful horse business with children riders due to her patience, energy, experience and knowledge.
As the sole owner, trainer and manager of Red Oak Horse Farm in Livingston, LA., Mareth has instructed riding lessons, pony parties and summer and holiday horse camps for 27 years.
Mareth's academic career co-incided with her equine endeavors. College degrees were earned in California and Colorado and culminated with a Ph.D. from Louisiana State University School of Veterinary Medicine specializing in equine reproduction.
Mareth started doing pony parties when her child riders requested family and friends coming to her stable to ride the lesson horses and ponies for their birthday parties. Then, the children asked for the ponies to come to their own house for a pony rides birthday party. That evolved to taking ponies to riders at kids parties, schools, churches, festivals, grand openings, company parties, fund raisers, family reunions and weddings.
Mareth is happy to be relocating back to her native mid-west. We invite people in the Tri-State area to have our ponies at their next festive gathering. The ponies attract a good crowd, entertain adults and children alike.
Business partner Mathew Goebel was born and raised in Monore, Wisconsin.