Please call for availability and special promotions: 608-293-1629
Make Your Party an M&M Party: SUGGESTIONSM&M RANCH RATES & DEPOSIT FORM – PDF
Reserve M&M ranch to make your next event memorable! We bring our miniature and large ponies to your place.
Ponies are hand led by experienced handlers. Our ponies are pretty, safe and child proofed. Our ponies are accustomed to party chaos such as loud noises, music, jumpy houses, dogs and children.  Children line up at our plastic mounting steps to get on the ponies. They take turns riding around the designated party area. Each pony is hand led by its own handler. Ponies are never on a carousel.  M& M Ranch cleans up after the ponies to keep your event site clean.
Rent our pony rides for your next event in the entire tri-state area.
M&M Ranch even has costumes for the ponies to create a wonderful themed party.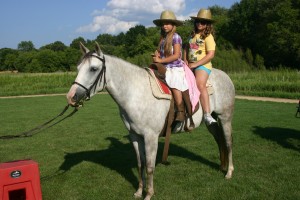 Book Now for Your Event
Birthdays & Kid Parties
Cowboy & Cowgirl Pony Parties
Festivals
Company Parties
Church & School Events
Fund Raising Events
Weddings & Family Gatherings
Holiday Themed Parties
Pony rides for all events!!!